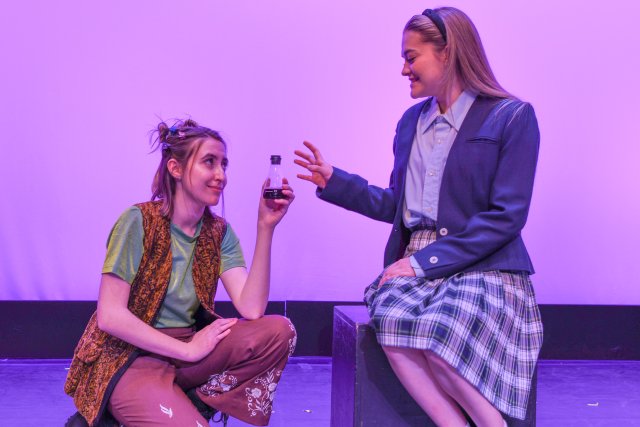 90s Shakespeare and Rock Musical Couples
(THOUSAND OAKS, Calif. — April 8, 2022) Shakespeare meets Green Day in an original musical parody of "A Midsummer Night's Dream" to be performed April 28-May 1 at California Lutheran University.
"A Midsemester Prom Night's Dream" kicks off at 8 p.m. on April 28, 29, and 30 at the Preus-Brandt Forum on the Thousand Oaks campus. A 2 p.m. matinee will be presented on May 1.
In this rock 'n' roll adaptation presented by the Department of Theater and Dance Arts, Helen, a student at Millennium Oaks High School, has studied so much she falls asleep at her themed prom. from "A Midsummer Night's Dream". She wakes up to find that she is a character from Shakespearian comedy.
Set in 1999, the musical features popular rock cover band 90s Nation performing live on stage, playing parodies of popular 90s hits. Green Day's "American Idiot" becomes "Shakespearean Idiom" and Smash Mouth's "All Star" becomes "Prom Star". Other bands featured include AC/DC, the Backstreet Boys and the Spice Girls.
It is the latest of many original productions written and produced by Thousand Oaks theater arts professor Ken Gardner during his 37 years at the university. The script for this comprehensive musical is based on a short musical adaptation of the play he wrote years ago for the Kingsmen Shakespeare Company to perform for thousands of elementary school students in Ventura County. . Previous musicals written by Gardner, recipient of the National Drama Program's Excellence in Education Award, include "Hamlet, Disco Dane of Denmark" and "Ohio," which was based on the shooting in Kent State.
It is the fourth of Gardner's original musicals at Cal Lutheran featuring the work of 90s Nation bandleader Ron DiBuccio.
Abby Cardenas, a theater arts and criminal justice specialist from Phoenix, plays Helen, and Katie Dingle, an Oak Park music production major, is Puck. Other main cast members in the production are Joey Grimaldi, a theater arts specialist from Pooler, Georgia; brothers Reed and Stone Sharp, film and television majors from Huntington Beach; Sacaiah Shaw, a theater arts student from Palmdale; Camarillo theater arts student Savannah Simpson; and Olivia Zonni, an Oxnard resident who has not declared a major.
Free entry. Tickets can be reserved at https://commerce.cashnet.com/CLUTHTR. They may also be available at the door. Proof of full COVID-19 vaccination or a negative PCR test within 72 hours of the event and photo ID are required for campus visitors. Masks are mandatory. The theater is located at 135 Chapel Lane. For more information, call 805-493-3452 or visit CalLutheran.edu.