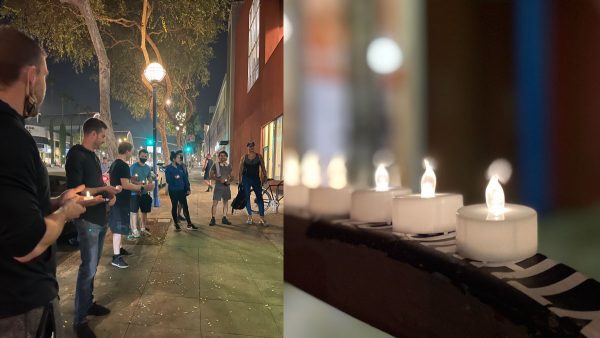 A funeral song for 24 hours of fitness
By Brian Sonia Wallace
Last night, the last hours of the 24-hour fitness center in West Hollywood saw a crowded gym as longtime members filled up the machines for a final workout. The energy was different – staff off the shift sat down at the front desk to spend a few more moments with their co-workers, and for the last ten minutes they cranked up the volume to play Backstreet Boy's Bye Bye Bye , The Final Countdown and Time of Your Life, as if it were a high school diploma.
Outside, members gathered with candles for a final farewell in a little mock ritual, with everyone "spilling ashes" – in fact chocolate whey protein powder, in memory of the death of the institution.
In my role as the City's Poet Laureate, I shared Emily Dickinson's poem 'Because I Couldn't Stop To Die'. Poet Corey Saucier wrote an original piece for the occasion, reflecting his 20-year history with the gym as a site of self-discovery following his HIV diagnosis, a powerful reflection on the darkness and self-esteem in a space that oscillated between propagation and subversion of white supremacist beauty standards and heteronormative gymnastic culture. Nayeli Adorador-Knudsen, local poet and co-founder of the Melrose Poetry Bureau, ended the evening by reading Pablo Neruda's Love Sonnet LXXXIX:
"I want what I love to continue to live,
and you that I love and sing above all
to continue to blossom, in full bloom "
The funeral flash mob has attracted more than 30 gym goers, including delighted and slightly disbelieving staff. 24 Hour Fitness on Santa Monica Boulevard was bought by John Reed Fitness and is heading for a $ 7 million remodel and membership rates of $ 130 per month, up from the current rate of $ 50 / month ( not counting long-standing members for whom the new monthly rate was higher than that of the entire membership year). Members spoke of "the end of an era," while noting the different eras that the gymnasium has gone through to make cruising more difficult for men. "[the new owners] don't know the culture here, "said a staff member. "They are planning to have a nap room. Good luck!"
The original invitation to the mock memorial read:
The Existential Complaints Office invites you to …
A 24 hour death song for fitness
The 24-hour fitness is closed for the last time on Tuesday, November 30 at 9 p.m. The West Hollywood poet laureate invites you for one final space tour at 8:30 p.m., complete with electronic candles. Wear a shroud if you can. Or just take off your shirt and join us. The procession will end with a dismal reading from Emily Dickinson outside and a group howl / breaststroke / tearing of clothes (note: please bring clothes to tear, you beast). Let us celebrate and mourn the death of space, use and tradition in the context of late capitalism paving the way for a more expensive capitalist capitalism. Refreshments will be provided.