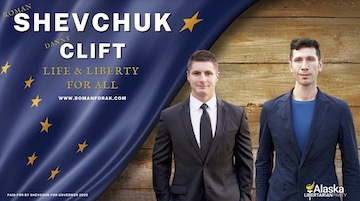 A second libertarian duo present themselves at the governor's race
Two other libertarians have announced that they will run in pairs for Governor and Lieutenant Governor.
Roman Shevchuk and Danny Clift announced the launch of their campaign this morning, with Shevchuk as the gubernatorial candidate and Clift in second place.
The duo say they "intend to begin to correct the course of Alaska by promoting leadership guided by reason, restraint and accountability to the people."
Shevchuk describes himself as a capitalist, second-generation American whose family escaped the aftermath of communism in Ukraine to seek a better life in the United States, settling in Wasilla in 2001.
Clift is a longtime architect, entrepreneur and Alaskan who runs two companies: his architectural firm and a marijuana grow site in Anchorage.
They detailed their platform:
– Believe in leadership based on consensus. Citizens give their consent
to be governed and for this law to be common, it must be supported
by an overwhelming majority. It is not for the government to lead the
community. T
– Oppose the partisan political behavior that characterized the
political landscape of this state.
– Believe in a complete PFD and in the statutory formula on which it is based
on, and are against the POMV.
– Aim to maintain or reduce state spending in all divisions.
– Protect the rights of our citizens. All.
– Are sensitive to LGBTQI + issues
– Are feminists in the classic way that the Merriam Webster
dictionary defines it.
– Believe in the Alaskan subsistence way of life and are
against trawling.
– Are friends of the marijuana industry.
– Believe in the choice of school.
Already announced are two other libertarians, Billy Toien and Shirley Rainbolt.
Bill Walker and Heidi Drygas announced as non-partisan candidates, and Gov. Mike Dunleavy announced, but did not announce his running mate.
Alaska will, for the first time, have an open primary, with all names on the same ballot, and a general election with ranked-choice voting, where voters will rank all four candidates (or teams, in the case of governor's race) who will emerge from the primary with the most votes.
Candidates have until June 25, 2022 to withdraw from the primary ballot. The primary election is August 16, 2022