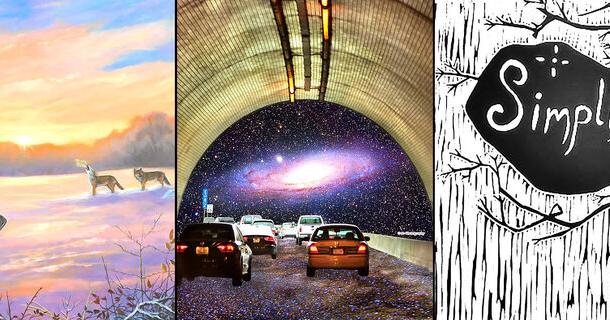 Carnegie plans exhibitions, courses, shows | State and region
During the next cycle of exhibitions at Carnegie Hall, which opens on Friday, April 1, three rotating galleries showcasing the works of regional artists will be featured.
The April/May/June exhibitions feature works by artists Misty Walkup (Old Stone Room), Eddie Maier (Lobby Gallery) and Nima Shahab Shahmir (Museum Gallery).
Shahmir, an Iranian-American photographer, focuses on areas of art such as digital media collage, graphic design, and videography. He picked up his first camera at age 11, and it helped him research unique ways to capture scenes, patterns, and faces.
In 2012, he won first and third place in photojournalism in Marshall University's SCORES competition.
In 2014, he participated in photography exhibits at Carnegie Hall and Lewisburg City Hall during the Lewisburg Literary Festival. In July 2017, his photographic/digital media works were exhibited at the Greenbrier Valley Visitor Center under the title "Create and Explore". He is a member of the creative network of the Tamarack Foundation.
Walkup is a working artist and illustrator and longtime resident of Greenbrier County. She loves to draw and paint since childhood.
Although she paints in a variety of media, she prefers oils and acrylics. She is a self-taught artist and has worked her entire artistic career to perfect and develop her own style of painting. She recently became a member of the Greenbrier Artists.
She had several personal exhibitions and illustrated several books. She recently published a collection of 22 of her animal prints in book form, "The Wildlife Art of Misty Murray-Walkup", which was recently selected for addition to the United States Library of Congress. Exhibiting her art across the United States, she has won numerous awards for her work.
The Lobby Gallery will feature artist Eddie "Spaghetti" Maier. Maier uses her creative talents to share Mother Nature's bountiful gifts of beauty. Although he works primarily as a printmaker, he is also adept in other media, including pottery, batik, mural painting, and just about anything art-related. Maier also enjoys sharing her talents by teaching and organizing art workshops.
The exhibits are free and open to the public, Monday through Friday, 10 a.m. to 4 p.m., and run through June 24. For more information, please visit carnegiehallwv.orgcall 304-645-7917 or stop by the Hall at 611 Church St., Lewisburg.
——
Planned painting dates
Carnegie Hall Spring Classes and Workshops offers a series that provides education for all ages. Artist Sandra Schmocker will teach students for two painting dates.
A two-hour painting adventure with the Woolly Lambs Painting Class will take place on Saturday, April 9, from noon to 2 p.m. Students will learn to paint fat and happy sheep grazing on hills with a beautiful blue sky background.
On Saturday, May 7, from 12 p.m. to 2 p.m., Schmocker will host the Floral Owl Paint Class. Designed for beginners, it will teach students step-by-step how to create a one-of-a-kind floral owl.
Registration for each class is $40 ($35 for members) and students 18 and under receive an automatic scholarship.
——
shows
Carnegie Hall presents The Steel Wheels on Saturday, March 26 at 7:30 p.m. at the Hamilton Auditorium. Prior to the show, the venue will host a pre-show reception in the Mainstage Lounge from 6:30 p.m. to 7:15 p.m. Attendees can enjoy a wine or beer paired with homemade shortbread. Mainstage tickets are $10 and can be purchased at www.carnegiehallwv.org or at the door.
Carnegie Hall is set to present The Honey Dewdrops on Friday, April 1 at 7:30 p.m. at the Hamilton Auditorium. Prior to the show, The Honey Dewdrops will offer a free preview and discussion session at The Wild Bean in downtown Lewisburg at 3 p.m.
Find out what life on the road is like, how they've weathered the pandemic, and what's in store for the award-winning folk duo from Appalachia. For more information, call Carnegie Hall Box Office at 304-645-7917, visit www.carnegiehallwv.orgor stop at 611 Church St., Lewisburg.