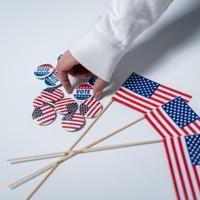 Congress, States and Local Candidates Run for the May Primary | Politics
INDIANAPOLIS — Those seeking positions in the US Congress, state legislature and local offices began applying for the May primary election with the Secretary of State's office this week. Hundreds of candidates filed Wednesday, the first day of the process.
Holder Frank Mrvan, D-Indiana, applied for District 5.
The seat of the Indiana District 46 Senate is up for grabs. The neighborhood, which was created during last year's redistribution, stretches south to the University of Indianapolis area and east past Warren Park. So far, four candidates have applied, all Democrats.
Ashley Eason is a bipartisan activist for local nonprofit organizations in the Midwest. She is from Texas but has lived in Tennessee and Washington, DC. Its platform is focused on job creation.
Karia Lopez Owens is not a politician. She comes from a family of working class immigrants. The four principles of his vision are community, affordability, sustainability and accessibility.
Andrea Hunley is the principal of an Indianapolis public school. Its priority is to ensure that education policy has a positive impact on local communities.
Kristin jones is a county municipal councilor, representing the 16th district of the council. His candidacy was approved by several unions in the Midwest.
Reneé Pack D-Indianapolis, filed for District 92 (incumbent).
Nan Polk (Democrat) applied for District 54.
Ross Thomas (Democrat) applied for District 59.
The Secretary of State is one of the few state offices that will not appear on the primary ballot. The candidates for this post, as well as the lieutenant governor, state auditor, state treasurer and attorney general, are decided at party conventions.
Destiny Wells (Democrat) is a lawyer and combat veteran. She is currently the Vice President of Coalitions and Expansion of the Indiana Democratic Party, but previously served as Deputy Attorney General of Indiana as well as an attorney with the Associate Corporation Counsel of the City of Indianapolis and the Marion County.
Wells grew up in Martinsville. She then attended Indiana University and graduated from the Texas School of Law.
If elected, Wells plans to oppose restrictive election laws, according to a press release announcing her candidacy.
Holli Sullivan (Republican) is the current Secretary of State. Governor Eric Holcomb appointed her to the post in March 2021 when Connie Lawson stepped down. The change occurred while Sullivan was representative for District 78 (Evansville and Newburgh).
During her term in the legislature, Sullivan co-authored a 20-year infrastructure bill and served as chair of the Bipartisan House Women's Caucus.
Prior to politics, Sullivan worked as a supervisor in the paint division of General Motors. She then founded Onward Consulting, a business consulting firm in Evansville. She now lives in Evansville with her husband, Chad, and their three children.
Kyle Conrad (Republican) is a longtime Newton County resident with electoral and administrative expertise. He worked for Governmental Business Systems, a company that facilitates programming, testing, training and certification of voting systems.
Conrad has a strong presence in local politics. He served as Newton County Circuit Court clerk for 10 years and is now in his third term as Newton County Commissioner, first elected in 2012. He has also served as Newton County Republican President for 17 years and fire chief since 1999.
Diego Morales (Republican) served as Assistant in the Office of the Secretary of State and in the Office of the Lieutenant Governor. He was also a senior advisor to former Vice President Mike Pence when he was governor of Indiana.
Morales competed in the 2018 Indiana District 4 Congressional Race.
Morales has an international orientation. He received his BA from Indiana University and an MA from Tilburg University in International Business Administration (NED). A multilingual hoosier, he is native English and Spanish speakers, and is also fluent in Portuguese, Italian, Hungarian and a Mayan dialect.
He served in the US Army at one base in Georgia and two bases in Indiana (Cass and Floyd counties). He received the Sagamore of the Wabash Award from Indiana and was also named Kentucky Colonel. Both distinctions are awarded to honor significant public contributions.
Jeff Mauer (Libertarian) announced his candidacy in August 2021. He has worked in technology, transportation and finance.
Mauer is a resident of Carmel and a member of the town's Economic Development Commission and Home Place Advisory Board. He promises on his website that he will restore integrity and confidence in the vote and believes a smaller government will be more efficient.
Mauer will vie for selection to run for the Indiana Libertarian Convention in March.
Isaac Gleitz is a reporter for TheStatehouseFile.com, a news site powered by journalism students at Franklin College.