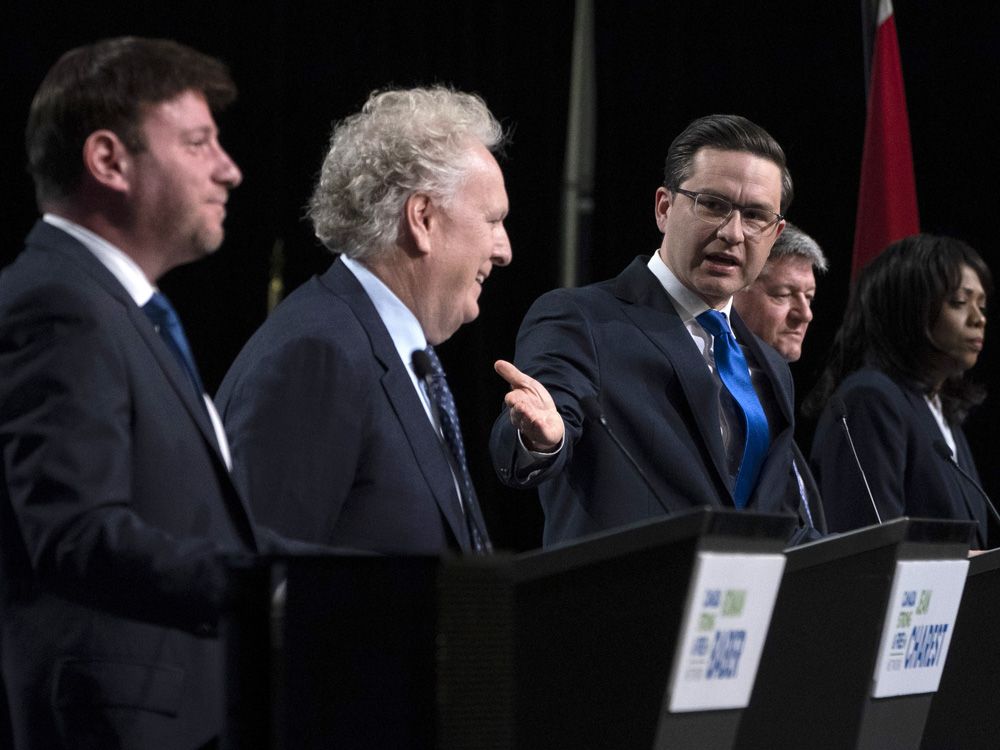 Matthew Lau: Freedom candidates should tell us what they would remove
Free-market conservatives or libertarian-leaning varieties seem to have no good options in this leadership campaign
Content of the article
In the Conservative leadership race, especially during the debates, some candidates have made fairly liberal use of the word "freedom". Not all of them, beware. Jean Charest's goal is unity, not freedom, and no one will confuse him with a libertarian. On the other hand, the favorite Pierre Poilievre repeats everywhere that he wants to make Canada "the freest nation in the world", and Leslyn Lewis, whose campaign also enjoys considerable support, says in the same way that she wants make Canada "the freest and most free nation". most prosperous country in the world. The problem is that, for all the talk of freedom and prosperity, neither Poilievre nor Lewis are convincing as free marketers.
Content of the article
Start with Ms. Lewis. Of course, she can give clear answers about her position on abortion: she is pro-life, and good for her. But then ask him about the economy. In the last debate, she said that supply management is "of course" not a free market policy but that she supports it nonetheless. Wrong answer, but at least more coherent than she is often able to give. When asked about economics in debates or interviews, she invariably fumbles and stumbles and, if she hasn't prepared a canned answer, often gives a completely unintelligible answer. In economy, she seems to be adrift at sea, without oars, without paddles, without a compass, without direction, probably even without a boat, and certainly without hope.
To get a good sense of Ms. Lewis' desperation in economics, you have to see and hear it, not just read a written description of it. I recommend, as examples, an interview early in the campaign with the conservative website Western Standard, and a more recent one with Vassy Kapelos of the CBC. In the latter, Lewis attempted to explain that she would balance the budget without cutting spending, increasing production and repatriating supply chains to boost revenue – a completely absurd plan. More nonsense: In the last debate, after Bitcoin enthusiast Pierre Poilievre said he would ban a central bank digital currency, Lewis exclaimed that she was "quite surprised that he is now saying that he would ban digital currency, as if he didn't know that bitcoin is a digital currency. But of course, bitcoin is not controlled by a central bank.
Content of the article
Unlike Lewis, former finance critic Poilievre is very articulate on the economy. Unfortunately, freedom seems to be more of a slogan for him than a basis for informing economic policy. He acknowledges that supply management is bad, but supports keeping it by falsely suggesting that eliminating it would cost more. On inflation, there are legitimate criticisms from central bankers, but Poilievre's claim that people can get out of inflation by buying Bitcoin is discrediting. When it comes to fiscal policy, Poilievre has a reputation as a fiscal hawk, but his rhetoric on debt and spending is much louder than his policies. So far he has said he will cut funding for the CBC. Good! But bringing program spending as a percentage of GDP back to what was forecast in Harper's final budget – which itself was not very hawkish – would require about $80 billion in annual spending cuts. The SRC brings in just over a billion dollars. Perhaps Poilievre's list of $79 billion in additional cuts is coming, but so far he hasn't produced it.
Content of the article
Matthew Lau: No profits, please. We are Canadian

Matthew Lau: Even before inflation, Canada was expensive. Thank you, governments

Matthew Lau: Reading, writing, 'rithmetic…and environmental racism'
Unlike Poilievre and Lewis, the two reckless campaign candidates, Scott Aitchison and Roman Baber, have, to their great credit, proposed to eliminate supply management. Of the two, Roman Baber, the Ontario MPP kicked out of Doug Ford's caucus for opposing authoritarian pandemic restrictions, has more of a libertarian bent. But he makes the same mistake as Lewis and Poilievre in talking about freedom: misplaced emphasis. During the debates, the talk of freedom had a lot to do with vaccination mandates and relatively little to do with economic freedom. Vaccination mandates are bad policy, but their imposition on liberty is far less than that of the federal government's fiscal policies. If Baber, Poilievre and Lewis are truly concerned about freedom, then talking more about vaccination mandates than the government spending they would reduce is a big mistake.
Content of the article
Finally, there is Patrick Brown. He has said good things about freedom of religion and made vague statements about controlling spending, but his words are unconvincing: in his unfortunate stint in provincial politics, he clearly flip-flopped on promises fundamentals regarding the carbon tax and the school curriculum. that the correlation between its policies during a leadership campaign and its policies after it is nil or negative.
Conservatives of the liberal or libertarian-leaning varieties therefore don't seem to have any good options in this leadership campaign – unless one of the candidates not named Patrick Brown soon produces a plan to cut annual spending by $80 billion. dollars or more.
Matthew Lau is a Toronto writer.