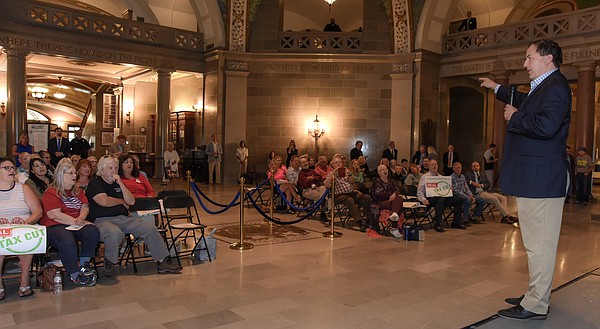 Missouri taxpayers plead for 'real' tax cut at Capitol rally
Missouri taxpayers gathered in the state capitol on Wednesday to advocate for a "real" tax cut.
As lawmakers kicked off the start of a special legislative session focused on tax cuts and farm tax credits, Americans for Prosperity, a libertarian-conservative political advocacy group, held a rally on Capitol Hill to urge them to obtain a lower rate than what has been publicly discussed. .
In his appeal to the special session, Governor Mike Parson proposed reducing the top personal income tax rate from 5.3% to 4.8%, increasing the standard deduction from $2,000 for individuals and $4,000 for joint filers, and to eliminate the lower income tax bracket. His call also includes extending tax credits for four farm programs for at least six years and creating four new farm tax credits.
AFP-Missouri Director Jeremy Cady says the state's tax code already guarantees a 4.8% income tax cut if general revenue is $150 million higher. the highest annual revenue for the past three years.
"We don't want this reconfigured, we want something more," he said.
Cady doesn't dispute the sustainability of the governor's proposed plan, but said "if we can afford the 4.8% today, we can go for it, but we can also keep the triggers in place."
Some lawmakers have been receptive to cutting taxes to less than 4.8%, while others want a smaller cut, Cady said.
On the first day of the special session, lawmakers introduced 22 bills to the Senate, some of which go beyond the 4.8% rate and target other forms of taxes, such as corporation tax .
Cady said the plan advocated by AFP – cutting the top tax rate to 4.8% today and keeping the triggers in place – is a "good compromise" for lawmakers.
Secretary of State Jay Ashcroft was among those elected to address the rally, as were several Republican members of the House.
"Look, we need a tax cut and I don't care if we're fighting over whether we should cut income tax, or cut food tax or cut property taxes," he said. said Ashcroft. "I just want Missouri to lead the nation in having the lowest tax burden for the people."
In addition to tax cuts, Ashcroft, a Republican, advocated adding an amendment to the Missouri Constitution that would require the General Assembly to ask voters for permission to raise taxes.
Cady said the purpose of the rally was to give Missourians an opportunity to voice their opinions on tax-cut lawmakers who will be working during the session.
Ron Marshall traveled to the capital from Rolla to attend the rally.
Marshall said he has a basic understanding of some of the tax proposals circulating around the Capitol, but part of his mission Wednesday was to find out more.
"I like paying less tax," he said of his decision to attend.
After the rally, AFP directed taxpayers to the lawmaker's offices to speak in person.