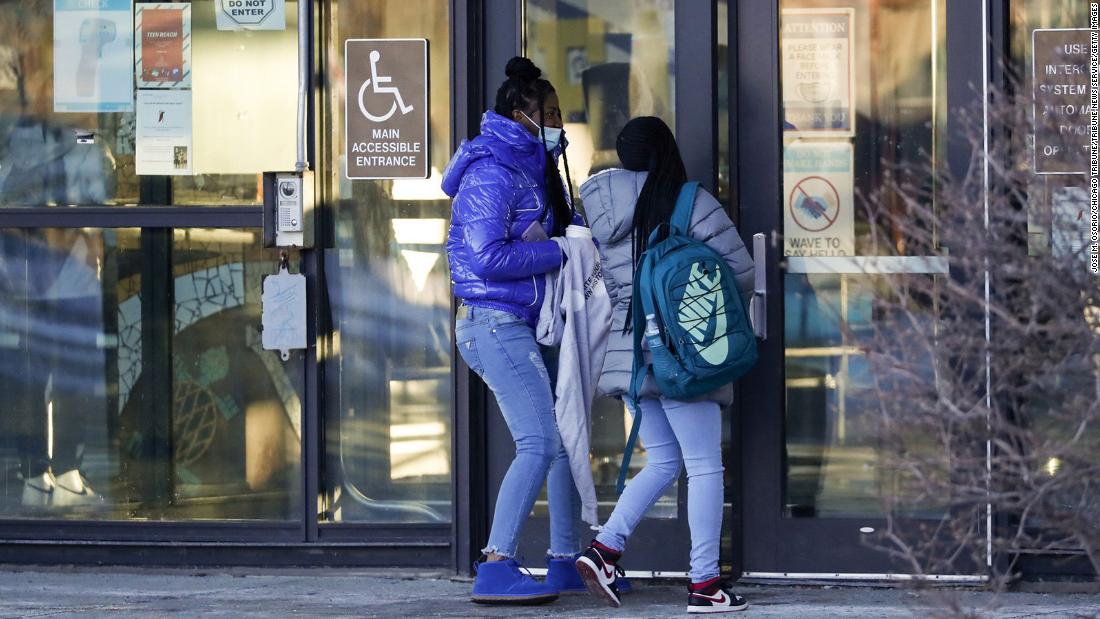 Union vote could trigger 'electronic lockdown' of Chicago teachers amid dispute over rising Covid-19 cases
"There is no evidence that our schools are dangerous," Chicago Public Schools CEO Pedro Martinez said at a press conference on Tuesday.
But union vice president Stacy Davis Gates said teachers faced "serious staff shortages" and a lack of mitigation measures against Covid-19.
"The layers of mitigation we need to keep our schools open and keep our students inside school buildings have not happened here in Chicago," Davis Gates said on "New Day". CNN Tuesday.
While their vote was in progress, Chicago officials held a second press conference.
Martinez said if teachers don't show up for work, they won't get paid.
He also said that even though there are no classes, the buildings will be open for the children to come.
Mayor Lori Lightfoot said there was no doubt that when the neighborhood became completely remote last year, "our children suffered".
She advocated leaving school administrators to decide when to switch to e-learning.
"What I know from talking to public health experts, what I know from talking to our CEO, is that there is no basis in the data, science or common sense for us to stop a whole system when we can do it surgically at a school level where it's needed, "she said.
She added that the city had spent more than $ 100 million on mitigation measures, such as improving ventilation systems in schools and HEPA filters.
The union vote comes as pediatric Covid-19 cases nationwide have reached record levels, according to data released Monday by the American Academy of Pediatrics, with cases rising nearly 64% over the course of the week ending December 30 compared to the previous week.
Chicago Department of Health Commissioner Allison Arwady, however, argued earlier that Covid-19 does not affect children almost as severely as adults.
"I understand people are afraid," Arwady said. "I understand that you look at these numbers and see that they are high, but I just want to reassure you that, especially if you are vaccinated, your child is vaccinated, it really behaves like the flu and we are not shutting down the districts. schools, especially for long periods of time, for influenza. "
"I remain extremely comfortable with children continuing their education in person," Arwady said at the first press conference.
She said during the second media event that there were 550,000 children in the city and that on average seven are hospitalized each day – almost all of them are unvaccinated children between the ages of 12 and 17.
Martinez said keeping students in schools gives the district better access for families to get them tested and vaccinated.
"One of the reasons I continue to advocate, including with the leaders of CTU, for schools to remain open and classes to continue, because this is our best chance to reach families," said Martinez.
The union meeting will include a survey of group delegates (elected union leaders for individual schools) to find out if they support distance learning until the current wave of Covid-19 subsides.
The union will also send the same question electronically to its roughly 25,000 grassroots members on Tuesday, according to a union official.
At a virtual union meeting on Sunday, around 80% of the 8,000 members present said they did not want to return to work in person under the current conditions, the official said.
If base members voted to return to distance learning, these teachers would inform their respective principals either Tuesday evening or Wednesday morning that they would be ready to teach, but only remotely – effectively leaving their classrooms. physical class.
In similar circumstances in the past, the district threatened to exclude teachers from their remote classrooms, the official added.
If the union votes in favor of the expulsion, classes will be canceled for Wednesday, Martinez said.
"We're still determined to try to get a deal," Martinez said, but "if all of this doesn't work… I'll have to cancel classes tomorrow."
"I have to be responsible, not knowing who is going to show up in the buildings," Martinez said.
Parents express their frustrations
Darian Martyniuk, father of a 7th grade boy at Lane Tech Academic Center and a girl at Von Steuben High School, said: "I'm glad the kids are back, I'm glad they're trying to do it. work but I think the whole situation has been a failure of leadership on both sides of the issue. I think the impression is that the union is fair, sour or they're just using that as a bargaining tactic to get what they want, but I think they have some legitimate concerns.
"They are all masks," he added. "Forget about distancing… These are masks. If everyone is wearing masks, the transmission drops off dramatically. That's really what it boils down to. And if you're vaccinated I'm pretty sure most CPS teachers are. "
Parent Maureen Kelleher withdrew her Grade 7 daughter from Chicago public schools last year for her handling of the pandemic.
"Fundamentally, the basic issues rest on the shoulders of CPC management and Town Hall," Kelleher said. "The union has a role to play in this area, but it's the job of the district to figure out how to educate the kids no matter what. So the things they haven't figured out what to do is watch the situation through the eyes of people who are in the crosshairs of two things. "