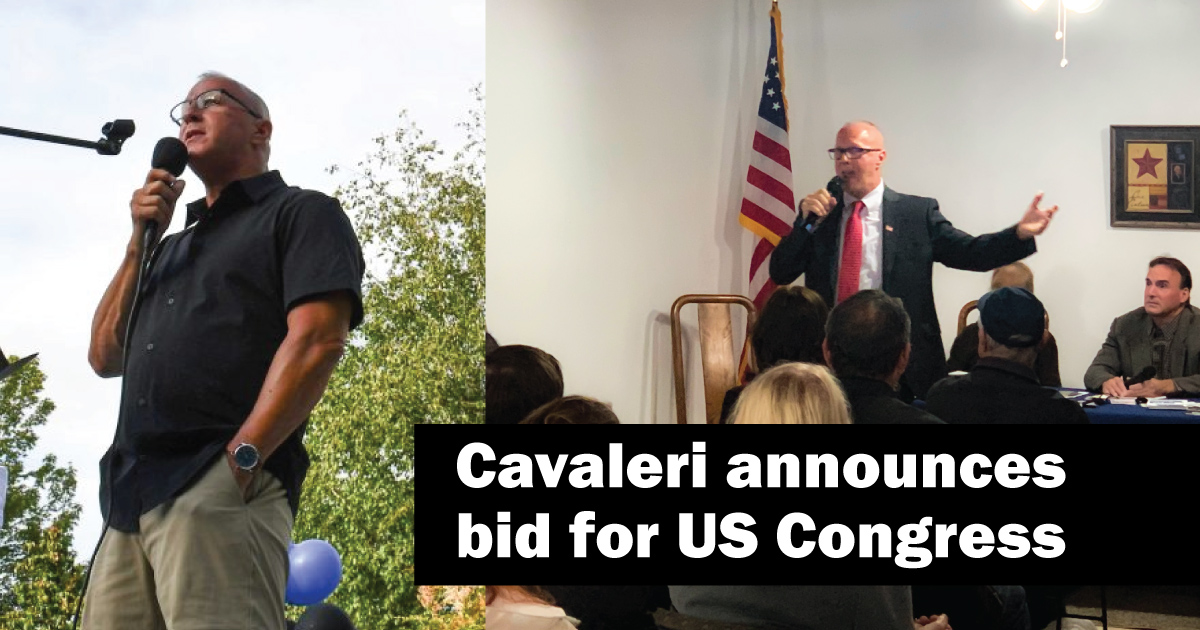 Vincent Cavaleri announces his candidacy for the US Congress
MILL CREEK, Wash. – Vincent Cavaleri, Mill Creek City Councilor and Deputy of the Snohomish County Sheriff's Office, has announced his candidacy for the 118th United States Congress, representing the first Congressional District in 2022.
Cavaleri was hired by the Snohomish County Sheriff's Office in 2000 and elected to Mill Creek City Council in 2015. Through his 21 years of law enforcement experience, he has developed a platform around priority to public safety.
While his platform also emphasizes fiscal responsibility, restoring small business communities, and regulating big tech, Cavaleri believes success ultimately comes down to ensuring public safety.
"Everything we do, any success we have has to come from public safety. Children should go to school without fear. Parents must be able to go to work without being robbed. It all starts from there, "Cavaleri told the Lynnwood Times.
In addition, he plans to focus on transforming Internet platforms into a public service "ruled by the people and for the people". . For Cavaleri, section 230 of the US code, which protects the blocking or filtering of "offensive material", is unconstitutional.
"We have to agree that censorship is unacceptable. This deplatform is unacceptable. It is unacceptable to suppress freedom of expression. It cannot happen in a free society. I would make sure these people were watched by Congress, and anytime you stray from the Constitution of the United States there would be hell to pay, "Cavaleri told the Lynnwood Times.
Cavaleri has already started drafting bills that he would introduce immediately, if elected, that would seek to protect people's civil liberties and help restore small businesses from the effects of the COVID-19 pandemic.
His Reapply and Retry law would devote $ 900 billion of the unused American Rescue Plan Act to catering to small businesses that have been harmed by what he calls "horrific COVID policies."
"These companies have not been hurt by COVID – they have been hurt by horrible leadership," Cavaleri said.
Along with the focus on public safety, it also plans to introduce its Community Law Enforcement Standards Act (LECSA) which would hold cities accountable for funding their police.
While serving on city council, Cavaleri introduced a resolution two weeks ago demanding that Governor Inslee hold an emergency session to clarify ambiguities over recently passed police reform laws that govern how officers can use force and respond to calls.
Through his time on city council, Cavaleri attempted to involve residents and his community in every way possible in the decision-making process.
Cavaleri also introduced ordinances within the council that would reinstate simple drug possession charges and ban mandatory passports for vaccines to maintain employment.
"Action carries more weight than words. I do everything to involve our people. When I know about a situation, I take action. I don't sit still. I don't wait to see what is. popular or what other council members think … Ultimately, we have a responsibility to our citizens to protect them, "Cavaleri told the Lynnwood Times.
About Vincent Cavaleri
Cavaleri was born in Queens, New York, and raised in West Babylon on Long Island. He was a troubled teenager, but after a police officer in his neighborhood urged him to enlist in the military, his life and priorities changed.
"I probably would have ended up in jail, in jail, dead, or one or the other. That's kind of why I base everything I do on helping others. That's why I chose public service, just because we always have to be there for the next generation, just like someone was there for me, "Cavaleri told the Lynnwood Times.
Cavaleri was honorably released from the United States Army Reserve in 1989 after serving for six years and then moved to Washington State. Through his time on the board, he has served on many boards and committees, including SNO911 and the fire board.
When not working as an MP or Council member, he is extremely active and involved in high impact athletics. He enjoys kickboxing, biking, hiking, and hot yoga. Yoga, for him, is a way to decompress the stress of his job and the pressures of life.
He has been married to his wife Lilian for 32 years, with whom he shares two adult children. with. This month, they just welcomed their first grandchild into the world.
"We are your immediate neighbors. There is nothing pompous about us, "Cavaleri said.
Cavaleri was a paying Democrat until 2015. Although he sees himself and his ideology as libertarian, he will run as a Republican in the next election.
"Running as a libertarian is a death sentence. . . . Running as a conservative, with my Christian values, seems to have a better marriage than what is currently available in the Democratic Party. It's not about partisanship, it's not about choosing sides. It's about making sure the very people we've sworn to protect and defend ultimately win, "Cavaleri told the Lynnwood Times.
To find out more about Vincent Cavaleri, his platform and how to help him in his campaign, visit https://www.cavaleriforcongress.com/
"America is in desperate need of some sort of unconventional leadership at this point. What we have is broken. What we have is collapsing right in front of us. What we have with the one-party regime is a monarchy, and it's destroying America. You can take all facets of America, whether it's the $ 3.5 trillion they're trying to pay off in new debt, whether it's the border, whether it's the citizens who are left in Afghanistan. Bad decision after bad decision must be taken into account, and I intend to do so as a member of Congress, "Cavaleri told the Lynnwood Times.