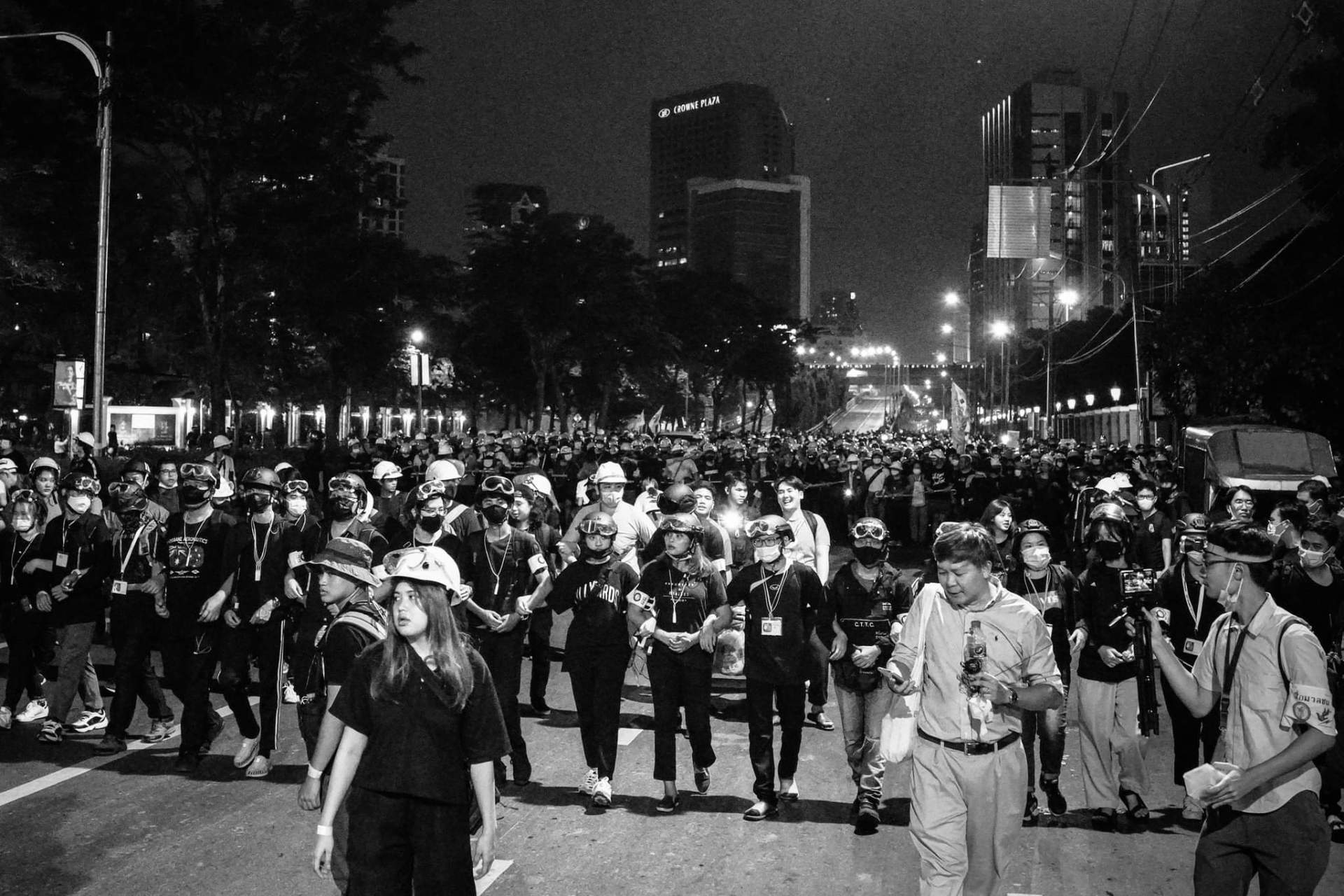 Walking a tightrope as a defender of democracy in Thailand
In Thailand, the demonstrators are not ready to give up their fight for democracy. Journalist Pravit Rojanaphruk, the latest in our Global Voices of Freedom series, explains what's at stake.
This content was published on November 27, 2021 – 09:00

Carlo Pisani

An impressive black-and-white photo, by Italian photographer Jan Daga, shows an August 2020 protest: Lines of young students walk hand in hand on a Bangkok street, followed by cohorts of heavily armed police. In the spotlight, live from the battlefield of Thai democracy, stands a single journalist with a smartphone – Pravit Rojanaphruk.
The 51-year-old journalist works as a senior editor for English khaosod ("fresh news"). Previously, he wrote a regular column for the Nation, an English-language newspaper in the country, but was forced to resign due to his political views following the 2014 coup. Since then he has gained a reputation as one of the most prominent champions of democracy and freedom of expression in South Asia – and has therefore been labeled an "enemy of the people" and arrested on several occasions.
In a conversation as part of SWI swissinfo.ch's Global Voices of Freedom series, Rojanaphruk repeatedly mentions a major obstacle to democracy in his country – the so-called "lese majesté" law, which prohibits any criticism of the monarchy.
The supporters of a modern democracy in Thailand find themselves on a tightrope. Thousands of protesters, mostly young people, have been arrested and jailed since Jan Daga took his iconic photo last summer. For his part, Pravit Rojanaphruk is still at the forefront of this important movement for freedom of expression and popular power: as a professional reporter and ardent defender of democracy.