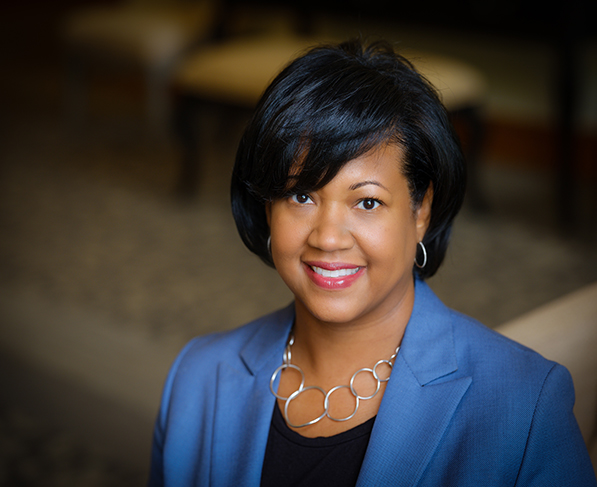 WFU Vice Rector Kami Chavis heads to William & Mary
Vice Provost Kami Chavis, a nationally recognized criminal justice expert and professor at the School of Law's Faculty of Law, has been named the R. Hugh and Nolie Haynes Professor of Law at William & Mary in Williamsburg, Virginia.
Chavis, who worked at Wake Forest for 15 years, will be the founder and director of the Center for Criminal Justice Policy and Reform. The Center will focus on issues such as democratic policing, prosecutorial ethics, law enforcement and technology.
She will remain at Wake Forest until July 1, when she will start working at William & Mary.
"I enjoyed working at Wake Forest, unequivocally one of the finest institutions in the country," Chavis said. "During my tenure at Wake, I have had the joy of teaching alongside distinguished law school colleagues, developing initiatives for the criminal justice curriculum and, as Vice Provost, work with other campus leaders on important issues.
"Yet what will remain dearest to me in my career at Wake Forest are the wonderful friendships I have made," continued Chavis. "While I am excited about what lies ahead at William & Mary, I will carry a deep affinity for Wake Forest University in my heart."
Chavis began her academic career at Wake Forest School of Law in 2006 and was promoted to full professor in 2012. She has taught courses related to criminal law, criminal procedure, police accountability and prosecutions, and the law of the police. His research focuses on a variety of criminal justice issues such as police accountability and prosecution, law enforcement and technology, federal hate crime legislation and its enforcement, racial profiling and bias in selection of jurors.
His scholarship has been published in numerous legal journals, including the Illinois Law Review, American Criminal Law Review, and Howard Law Journal, and shorter works have appeared in The New York Times, USA Today, and others. media. She is also a frequent contributor to national and international media and has appeared on CNN, MSNBC, CTV and NPR.
Prior to being promoted to Vice Provost in 2020, Chavis served as Associate Provost for Academic Initiatives and was responsible for managing many of the University's academic and strategic initiatives. His portfolio includes the Office of Civic and Community Engagement (OCCE), the Institute for the Humanities, the Center for the Advancement of Teaching and Learning, the Office of Online Education, the Center Professional Development, Title IX Office, Wake Forest University Press, and the Wake Forest Slavery, Race, and Memory Project.
Prior to coming to Wake Forest, Chavis was an Associate United States Attorney in Washington, DC, and prior to that practiced law at two of Washington's top law firms. She earned her BS from UNC-Chapel Hill and her JD from Harvard University.
Provost Rogan Kersh said he was saddened by Chavis' departure but grateful for his leadership at Wake Forest, particularly during his last four and a half years in the Provost's office.
"Having Vice Rector Chavis literally next door has been vital to Wake Forest in many ways, including our ability to navigate the pandemic," Kersh said. "His collaborative partnership has enhanced everything from online education to community engagement to our Council of Deans interdisciplinary academic initiatives. William & Mary not only gains a nationally recognized criminal justice expert and dynamic teacher, but also a beloved colleague who uplifts all those around him.
Dean of Law School Jane Aiken added: "Kami is an important public intellectual and a warm and supportive colleague, and we at law school are sad to see her go. William & Mary landed a shining star in Kami Chavis, and we hope there will be room for future collaborations with her.